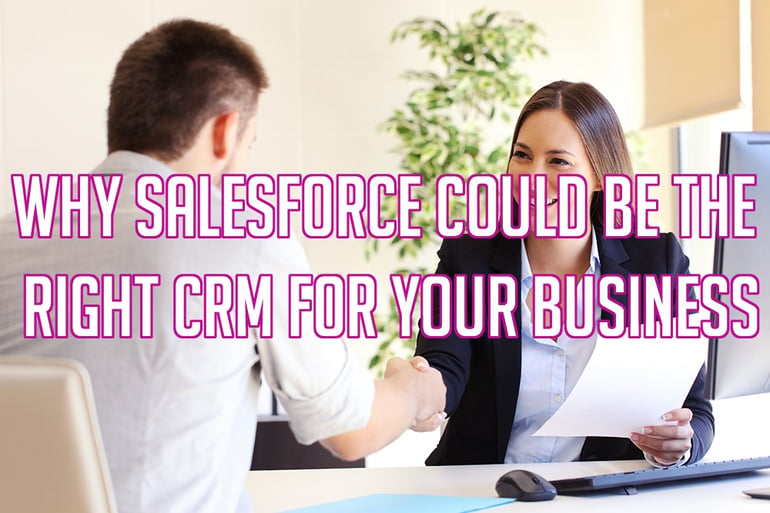 Salesforce CRM is a popular solution for customer relationship management software primarily due to its flexible configuration of reports, cloud accessiblity and easy integration of data between a business' other software systems. Satisfied adoptive users claim the software has transformed their approach to selling, and has enabled them to define new sales and analytic tactics which help to better understand their chances for business profitability and efficiency—but that doesn't mean that the software will be a perfect fit for every single business. In this post, we will size up Salesforce's CRM capabilities, and then match each capability to the type of businesses it best supports. Alongside this breakdown, we will also define the highs and lows of a leading CRM vendor like Salesforce. While the hugely popular system may provide the framework for a significant change initiative in your company, it can also expose business environments and exacerbate weak points due to the nature of the CRM. So, is Salesforce right for you? Read on to find out!
Salesforce CRM Fits:
New Challenges Requiring Agile Data Management
These days, many organizations are feeling a dramatic shift in the dynamics of their selling process. More world markets are opening up the doors to global commerce for businesses of all sizes. Disruptive technologies have altered the way many procure and purchase materials, and the majority of small and medium businesses (SMB) are expanding the roles of their sales employees into that of end-to-end solutions architect for their clients. Instead of just selling product, sales people have to understand their potential client's needs and then sell them the solution, all while proving that their company is the most capable at providing them. These decisions are placing heavy pressure on business leaders to procure an agile technology that can scale this demand to an organization's sales process, along with increasing visibility into operations and analytics.
Businesses operating in manufacturing, distribution and logistics industries process large portfolios of materials and data every day: SKUs, transit routes, and even service plans on a daily basis. This establishes a complex arena for companies to budget, report and forecast their sales and costs. It also deepens the trench of responsibility and accountability of those elected to sell.
Many times these added roles can prompt a descent of selling morale due to convoluted, repetitive data entry – often causing sales members to not understand customers as well as they think they do. Furthermore, mergers and acquisitions over time can prompt incremental and uneven business growth year over year, carving complexity into processes bit by bit – unknowingly converting several similar tasks into an entirely separate process. While this kind of growth is never a bad thing, it does take users sometime to adopt a change to their system, and to grow their routine along with the new processes.
A system with the potential to fix it
If mapped according to a unique work flow within a process, Salesforce can be leveraged to provide a seamless transition from a traditional sales process to one of greater sophistication without creating any more unnecessary complexity. That said, Salesforce is not a one-size fits all solution to the aforementioned challenges – and a savvy PM performing his or her due diligence when evaluating any CRM will tend to agree. It merely provides the platform for that smooth transition. It's up to the business to leverage that platform to its fullest potential. Likewise, if you're stuck mulling whether Salesforce is the optimal fit for your organization, understand you're not alone. Many in your industry are considering the same quantum leap into modern selling and business development. One of our most popular blog post compares Salesforce and Dynamics CRM: and truthfully there is no one single answer. You must look at your specific business processes and determine which one is best adapted to support them (and not damage your wallet at the same time).
Salesforce CRM Fits:
Mobility and Remote Users (maybe)
There are some things the modern workforce has simply come to expect of business software: vibrant displays and intuitive user interfaces, scalability and now ease of configuration in a mobile application. Today your sales and service teams must produce quotes, procure materials and check inventory from a wide range of locations on a variety of separate machines when working out of the office or during travel. Mobility is fast becoming a daily fact of everyday business, and you must consider this, and your own company's reliance on the functionality, when selecting CRM.
The cloud-based architecture of Salesforce effectively aggregrates and distributes this data to each device. It is a useful way to provide real time data to internal groups, sales and service teams working a cross-section of demos in a territory, or regulatory bodies. For a startup, or company employing less than 10 people, Salesforce may not be the best fit. It truly depends on the breadth and precision of the data sales teams need access to, and the length of time you'd like the sales cycle to render. For other businesses, a robust cloud architecture which can support many offices, sales people and processes is needed. In those instances, Salesforce is the right choice.
The reason we find that the majority of companies latch onto Salesforce's mobile application in particular, is simply because mobility is a prime feature that Salesforce built a lot of their business model around — ease of use and ease of accessibility to data. This functionality of Salesforce can complement nearly any selling, marketing, engineering (if integrated to an ERP) or transit process from a mobile device, perfectly.
Salesforce CRM fits:
Integration
Some companies would be surprised to find that Salesforce CRM is adept at integration with existing Microsoft applications. Salesforce can be easily integrated with Microsoft Outlook and MS Office tools, and the transition is somewhat seamless. In fact, Salesforce has already launched Salesforce Files Connect, a tool that integrates files from on-premises MS SharePoint into the company's cloud workflow. This is significant for business users. A recent study from IDC – a global market intelligence firm – revealed 61 percent of users search files from four separate data sources in the course of their day to complete a single job.
Salesforce had an obligation to find a way to place all data sources into a single utility for users – specifically, Salesforce CRM. For example, data integrated between Salesforce CRM and SharePoint allows users to attach a spreadsheet, slide deck or research analysis to an item in CRM so that it can be easily displayed for a group or others in the organization. This information can also be queried from the Salesforce1 mobile application just as easily as from a desktop, combining the need for mobility, ease of accesses and interconnected data in one fell sweep.
Additionally, since Salesforce CRM is a cloud-only application, it is easily integrated using many of the common integration platforms, particularly Unity, the premier platform for CRM and ERP integration. There's no need for lengthy on site integration processes or extra middleware. It can all be done through the web!

Wrap Up
During your selection process, be sure to consider all the angles of your business (location of operations, client type and compliance items, etc.) to determine if Salesforce CRM parallels those arrangements and will be able to do everything you will ask of the system. In many respects, Salesforce dominates the business software market. Yet, like every other technology, that does not mean that it is a one-size fits all solution for every type of business. However, if your business fits into the above categories of needs, the CRM platform could be the perfect fit for your operations!
Investing in infrastructure is a crucial decision that should be considered by many in an organization. One of the best ways to mitigate these risks is to invest in having an expert assist you during selection and implementation. Datix has helped hundreds of businesses successfully navigate enterprise software implementation and integration projects. Contact one of our experts today to learn more about how we can help. Whether you're still selecting CRM or you're halfway through a project, we can help.
---