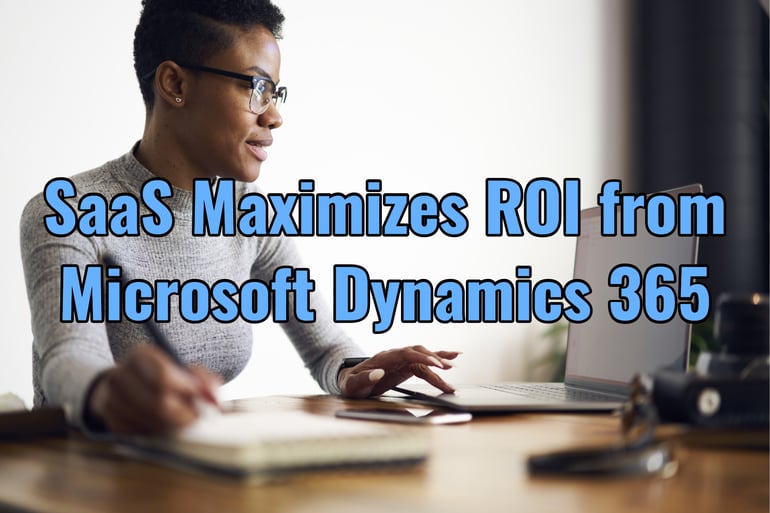 How Does SaaS Increase ROI?
CRM software goes above and beyond when it comes to boosting business processes and providing an ample return on investment. It is often touted for having the highest ROI of enterprise software platforms, making it a low-risk implementation. The flexibility of top CRM systems offers increased productivity and profits as well as reduced administrative costs. Microsoft Dynamics 365 proves especially reliable in offering a quick, sizable return on investment because of its competitive pricing and the familiarity of Microsoft platforms.
However, maximizing ROI requires more than just a simple plug and play. In addition to undergoing comprehensive training and business process mapping, you should also take advantage of software-as-a-service (SaaS). The CRM market, including Microsoft Dynamics 365, has made a drastic move in recent years to deliver services through the cloud. Now, the vast majority of CRM systems are cloud-hosted, likely contributing to CRM's impressive ROI. SaaS is one of the common cloud service models, but what makes it the optimal choice for manufacturers and distributors? In this piece, we dig into the benefits of implementing Microsoft Dynamics 365 through an SaaS model.
What is SaaS?
Before we get to the ROI-boosting power of SaaS, let's establish a clear definition. Software-as-a-service is a popular cloud-based distribution model in which applications are hosted remotely by a provider. These applications are made available via the internet through a public or private cloud. Most often, SaaS is provided through a multitenant architecture, a public cloud environment in which different users operate on a single piece of software that is owned and maintained by a vendor. A major benefit of multitenant platforms is that the vendor takes care of errors or upgrades, providing support and expertise so you aren't left to fix problems on your own.
Faster Deployment
A key factor driving the high rates of SaaS adoption is the faster deployment time. Implementing on-premises software requires tremendous upfront costs and higher risks. The time and effort that goes into acquiring hardware and maintaining your instance can be overwhelming, potentially taking months or even years to deploy without guaranteed success. With SaaS, your company doesn't need to worry about hardware. Once users set up their username and password, they are ready to get started on the SaaS application. The ease of software-as-a-service tremendously cuts down on traditional deployment costs, helping you achieve a full return on your investment in no time. Furthermore, automatic weekly or monthly updates on your SaaS instance also results in saved time and money, meaning that your software generates long-term value.
Lower Pricing Plans
In addition to the lower cost of deployment, SaaS users can also enjoy lower long-term costs. Organizations typically pay for SaaS through a monthly or annual subscription fee. Some users hesitate to adopt SaaS because they consider this ongoing subscription as more expensive than the one-time initial ownership fee of on-premises systems. However, on-premises CRM can require substantial ongoing costs as a result of maintenance and purchases for your hardware system. With SaaS, users can avoid the headache of expensive hardware management. Plus, SaaS provides flexible pricing options. Companies can subscribe and unsubscribe to SaaS features as needed rather than waste money on unnecessary services.
Higher User Adoption
When businesses achieve a high rate of user adoption, they enjoy a rapid return on investment. The faster users familiarize themselves with a CRM system, the faster they take advantage of functions that speed up the sales pipeline and increase revenue. SaaS has proven to have higher user adoption rates because of its user interface (UI). Interfaces often resemble popular web programs, making them familiar platforms for users.
Furthermore, because SaaS applications are available over the internet, users can access software from any device with internet connectivity, including mobile phones. Besides enabling sales teams to access information while traveling to visit clients or network at trunk shows, mobility also gives users opportunities to familiarize themselves with their CRM platform away from work, allowing them to utilize more time at work to attract leads.
Wrap Up
Though all of these advantages and more can be achieved with a Microsoft Dynamics 365 system deployed on an SaaS method, a sound strategy must be in place to ensure a smooth implementation. For example, the subscription pricing of software-as-a-service can prove a more cost-effective solution than on-premises software, but that's only if you identify the applications you need and perform a comprehensive cost analysis so those subscription fees don't exceed your expectations.
A certified partner of Microsoft Dynamics 365, Datix knows all the tricks to successfully execute your CRM project. Plus, our CRM consultants go the extra mile, providing not just an implementation but a seamless integration between a variety of software instances. Unity, our premier integration solution, can connect Microsoft Dynamics 365 with Epicor ERP, PandaDoc, Magento eCommerce and more to increase efficiency and mitigate risk across your enterprise.
Reach out to Datix today to learn more about our cloud computing, software integration and CRM expertise!