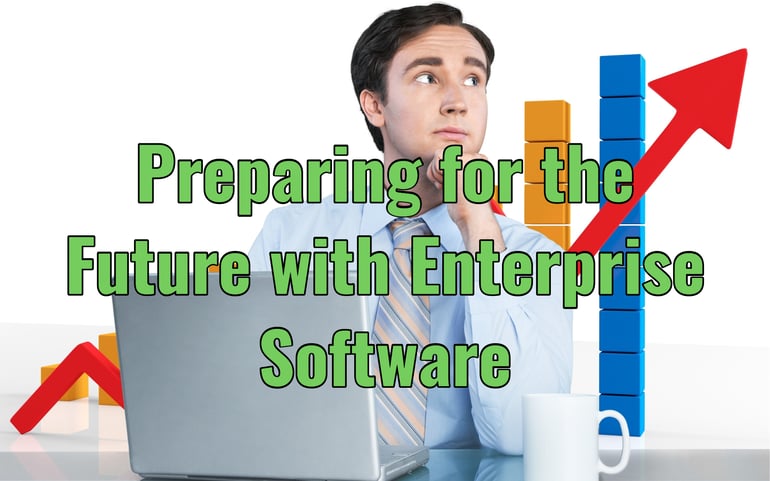 Use ERP and CRM for Long-Term Business Success
Implementing enterprise software, such as an ERP or CRM platform, requires a little bit of insight. Sure, you want to install a system that supports your current business practices, but your software should also feature the functionality and flexibility that will propel your business forward for years to come. Here are some tips to help you choose the best software for your company's future success.
Develop a Calculated Process
Just like building a house, ERP and CRM software implementation is an expensive, risky venture, but also a necessary one in the modern enterprise marketplace. Similar to a blueprint, a well-thought-out plan created with a team of expert consultants mitigates risk and permits a smooth implementation.
Make sure you and your consultants build a step-by-step approach that leaves no stone unturned and provides transparency and direct communication between software, the project team and your company. When speaking to consultants, provide information about what the software will be used for, who will be using it, and how you see your company growing in the future in order to acquire the software that will elevate your business now and in years to come.
Find Flexible, Usable Software
Quite simply, enterprise software is meant to be used by your employees; if it's faulty, persnickety, or requires advanced technical knowledge, employees won't use the system, making the software a waste of time and money. Furthermore, if the system isn't flexible, it will be rendered unusable in the future as your company's needs change. At Datix, we work with the premier vendors in ERP, CRM and eCommerce software to offer the most flexible, usable systems available.
Datix is a proud Platinum Partner with ERP leader, Epicor. Epicor ERP's flexible multi-tenant hosting allows businesses to replace default service behavior with managed code or customized rules that fit their company's practices. Employees can access their most important tools at the click of a button by creating a personalized dashboard with the charts and actions relevant to their daily tasks.
The advanced CRM features of Microsoft Dynamics 365 and Salesforce offer long-term flexibility and usability to clients. For businesses using Microsoft products such as Outlook and Office, Microsoft Dynamics 365's interface is familiar to employees, speeding up the training process. Salesforce uses clicks rather than complex coding to customize processes, making it easy for anybody to use.
In the eCommerce world, Magento is a cutting-edge leader, largely due to its open source coding. Open source coding makes Magento flexible and easy to manipulate, putting the eCommerce software above and beyond the competition.
Choose ERP Software with Predictive Capabilities
When it comes to determining the best practices for moving your business forward, enterprise software is better than ever at seeing into your company's future. Using data stored in your software, ERP can predict how well your products will sell and what your current customers will be interested in purchasing later. Epicor ERP 10 includes predictive analytics to map geographic, demographic and seasonal trends over a long period of time and offer 360-degree views of past transactions. Clients can then leverage this information to see where their company is headed. Furthermore, you can reduce your inventory to zero by using ERP predictive technology to practice lean manufacturing and create only the number of products you need. Epicor ERP's predictive analytics tools are priceless, as they use today's data to help you plan tomorrow's business model.
Contact Datix
The final step in guaranteeing that your software enables your business' long-term success is to call Datix for a consultation. We know that an enterprise software's success consists of far more than implementation; software must be maintained and updated to stay up to speed with growing business demands. Datix offers a continuous improvement plan (CIP) to help you throughout the lifespan of your software, so that your software continues to improve along with your business.
Furthermore, Datix knows that integrated platforms are the best systems for future-proofing your company's business processes. That's why we developed Unity, a unique platform that integrates a variety of software, including ERP, CRM and eCommerce. As businesses expand, they need information all in one place in order to streamline processes and curb human errors.
We know you want your company to be on top for a long time, so contact us today to find out how enterprise software supports business longevity!