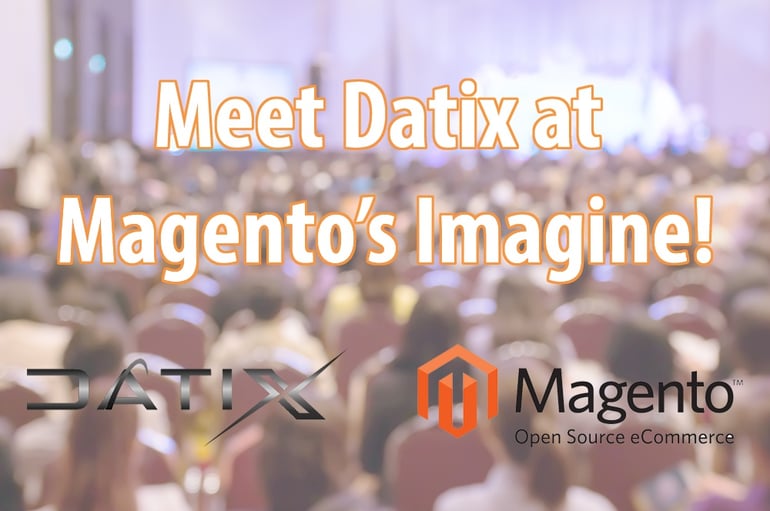 Magento's premier commerce conference, Imagine is coming up in just under two weeks! Datix is excited to have Vice President of Sales Anthony Harper and Executive Vice President of Software Development TJ McDowell attend the conference, which will take place at the Wynn Las Vegas from April 3rd to the 5th.
Magento launched Imagine six years ago to act as a place for the international commerce ecosystem to connect and exchange ideas. Just six years later, attendees now hail from 45 countries and from an extensive cross-section of industries, agencies and technology providers. To truly get the most out of their time at Imagine, the Datix team will be attending a wide variety of presentations (with a keynote from tennis star Serena Williams), breakout sessions and networking events.
As a certified partner of Magento, Datix is excited to find out what's in the pipeline for Magento and their premier online eCommerce software solution. Our resident Magento development and technology expert, TJ is particularly eager to hear about the latest platform developments and how he can wield them to help our own clients. The new information and education will no doubt help the team become even more in-the-know about what will work for our clients and how we can mold the platform's online shopping experience to best suit the unique business needs of those clients. Datix are premier Magento partners and implementation consultants, and attendance at Magento's Imagine will help further that reputation.
Anthony and TJ are not just thrilled to learn at Magento's Imagine, they're also looking forward to sharing the company's vast experience with the eCommerce software too. They're particularly eager to showcase Unity, Datix's leading enterprise software integration product that can connect Magento seamlessly to your company's current Epicor ERP system, with no extra coding required on the client's end! Unity can have your enterprise software systems and Magento sharing crucial fields like quotes, parts, customer contact and shipping info and more. Imagine the time that could be saved and errors that could be avoided when those key fields sync automatically, exactly when you need them to. We know Unity is an impressive product and we are excited to share it with other Magento customers at Imagine.
(Read our blog post on the importance of connecting ERP with Magento here!)
If you see TJ or Anthony at Imagine in Las Vegas, make sure to say hi! You can also reach out now and set up a time to talk with them about our impressive Magento implementation and integration solutions by contacting us using the button below.