Building a Connected, Intelligent Enterprise
As you might have expected, the Internet of Things (IoT) is all about connecting "things" like products and machinery to the internet. Internet-enabled sensors track the performance and usage of products and equipment, sending valuable insights to manufacturers and distributors. As you can see in the infographic, the IoT is one of the key technology trends for driving business-wide visibility and growth. But the question is, how is all this data being put to use?
Unfortunately, most of this information isn't being effectively leveraged by organizations. That's because IoT and ERP are only just beginning to come together. Instead of feeding directly into ERP software, machine-generated data is left unstructured and poorly used.
For manufacturers and distributors across multiple industries, enterprise resource planning software is the cornerstone of their processes. Comprising of integrated modules and sophisticated analytics, ERP transforms raw data into real-time insights. It only makes sense to align the powers of ERP and IoT to maximize the value of your data.
Below, we explain some of the specific benefits of joining IoT and ERP. Find out how to form a connected, intelligent enterprise to fuel future success.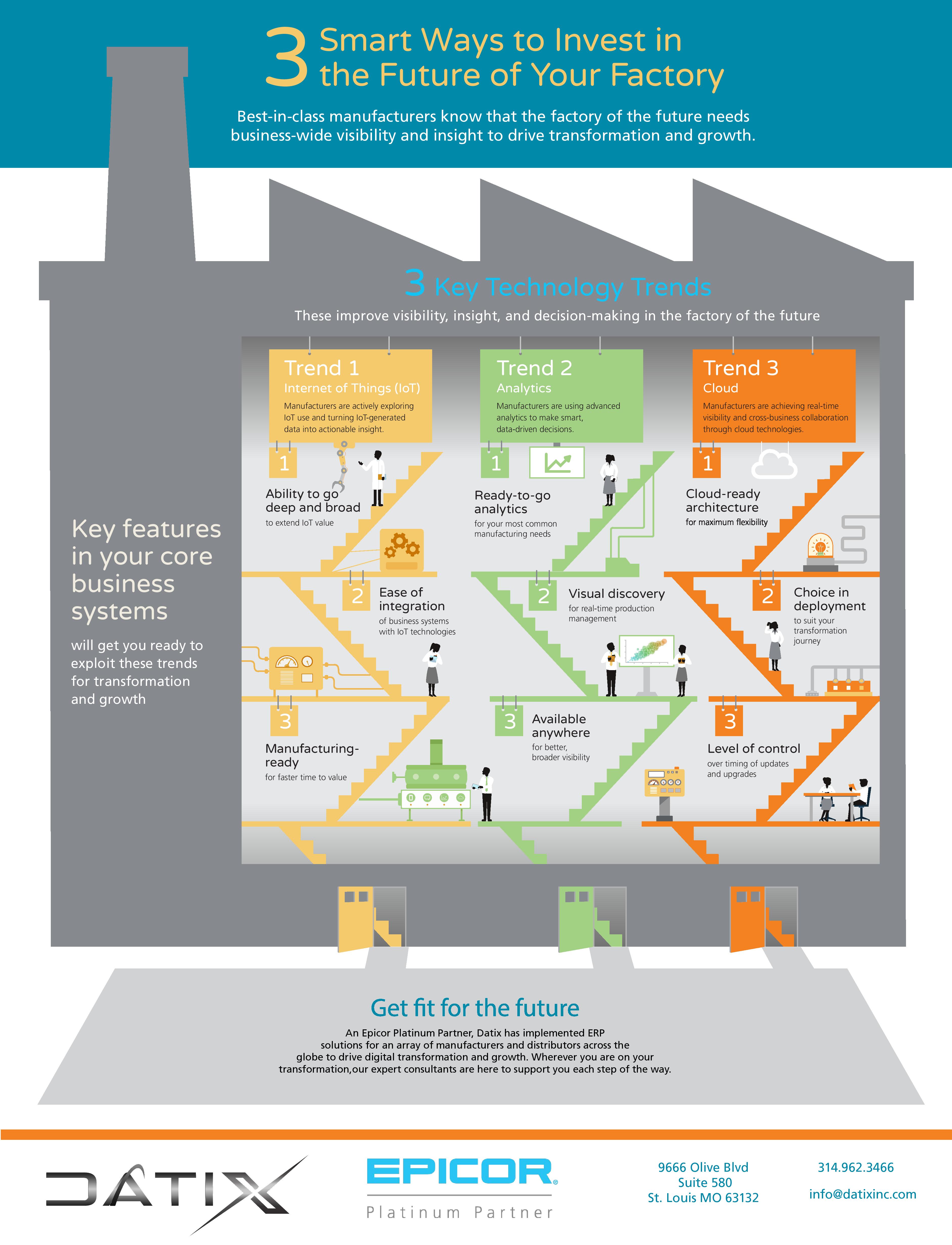 Click on the above image to view the full-size infographic.
Bringing

ERP and IoT

Together
Customer Service
IoT enables businesses to stay on top of customer needs long after a purchase. With information generated through product sensors and transmitted into ERP software, you gain insight into each product, enabling you to offer additional services. You can even detect product deficiencies, allowing you to reach out to customers and dispatch the right field service workers to fix the issue before customers even notice a problem.
Product Quality
Manufacturers often manage quality through manually inspecting WIPs, a time-consuming process that makes complete quality control impossible. IoT can automate this process, using sensors to track production lines and identify defects or misaligned parts. This data can go directly to your ERP, triggering alerts and recommending actions in real time, so you can instantly act to maintain product quality.
Machine Maintena

n

ce
Sensors allow manufacturers to monitor machinery from anywhere in the world, sending alerts to ERP systems whenever there are any lapses in equipment performance. This enables maintenance automation and allows technicians to detect the precise area of the problem. IoT helps businesses improve shop floor safety and minimize downtime by providing real-time data.
Lean Manufacturing
Deeper insights into production lines can help manufacturers enforce lean practices. Sensors can automatically communicate Kanbans and replenishment to the ERP solution. Connected devices can also track equipment uptime and detect bottlenecks. This data enables users to instantly identify waste and inefficiencies, so they can make better decisions to reduce costs and surplus materials.
Wrap Up
Ultimately, IoT and ERP work together to keep an eye on your entire supply chain. Smart devices and sensors collect and transmit data into ERP software, where insights are provided through BI tools, reports and dashboard notifications. With precise, real-time data, users can make better decisions to enhance manufacturing or distribution performance.
Let Datix help you prepare for future enterprise success. A certified Epicor partner, our consultants offer a variety of ERP solutions and services to maximize the value of your investment and increase your insights. From start to finish, we work with clients to provide modern solutions to fuel greater productivity.
Get started on becoming a connected, intelligent enterprise with IoT and ERP. Learn more by reaching out to the experts at Datix today!