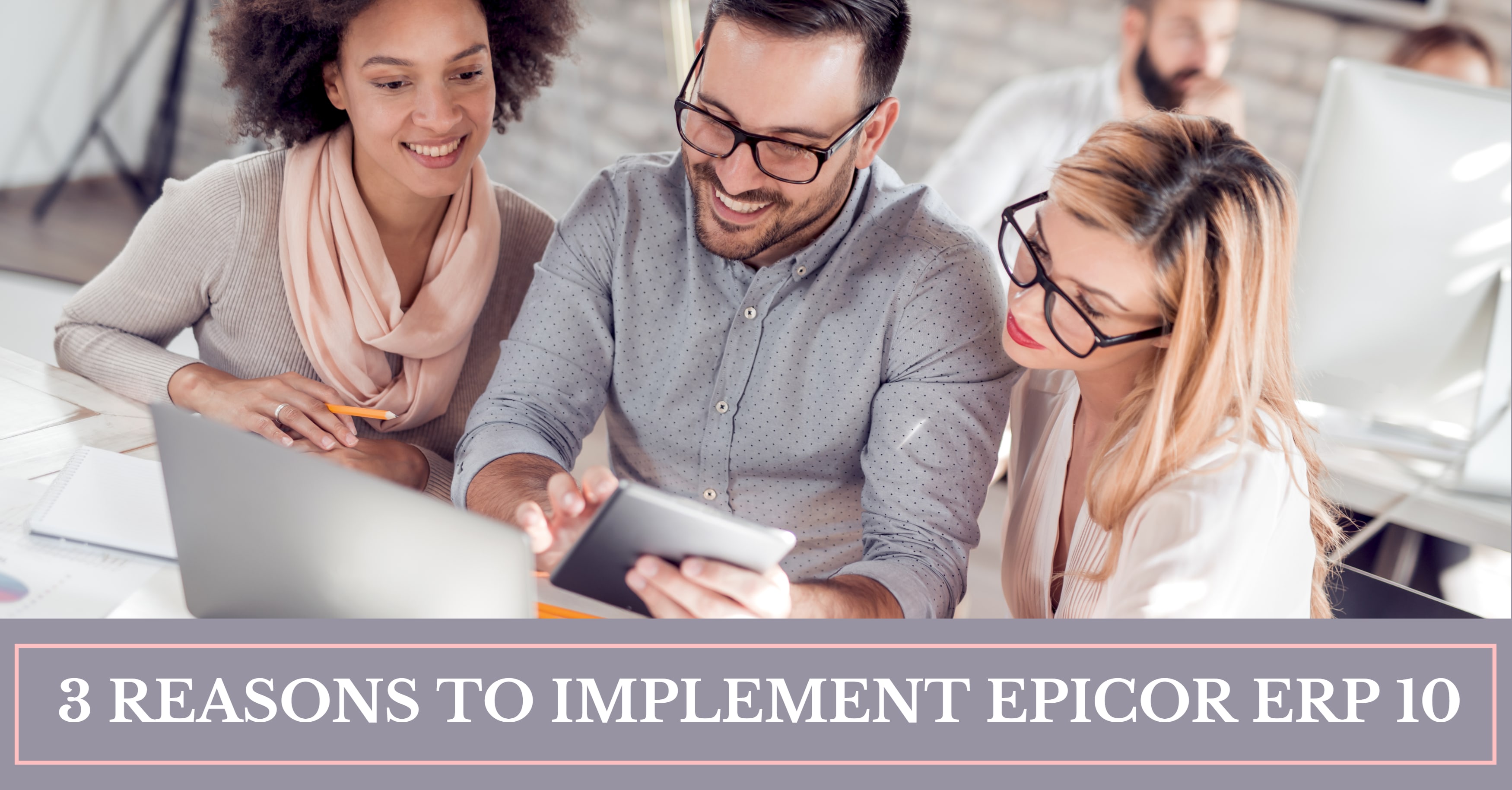 Transform Your Business with Epicor ERP 10
We find that too many manufacturing and distribution businesses are not entertaining powerful enterprise software platforms, such as Epicor ERP 10, as options for their implementation. That's because running Epicor ERP 10 to its full potential takes a combined knowledge of industry best practices and implementation methodology—a depth of understanding which smaller businesses often lack. However, by teaming up with trusted ERP consultants, a company of any size can implement Epicor 10 and generate software ROI like never before.
For those exploring the idea of implementing or upgrading to Epicor 10, here are the top three reasons why our consultants believe that Epicor 10 is better than any other ERP system on the market today.
1. Scheduling
Whether you're a manufacturer, distributor, services provider or a combination of all of these, a fundamental requirement of your business model is flexible planning and scheduling. Epicor 10 is largely known for its advanced materials planning suite. It enables day to day planning for make-to-order or engineer-to-order business users who desire to improve lead time. This is a purposeful utility for those companies who operate in markets with high volatility or seasonality, or are a source of capacity for private label products.
Additionally, when expertly configured, companies needing multi-site access from one dashboard can do so with ease. Epicor ERP 10 enables business users to handle a combination of scheduling obligations remotely from a single area of the system. Easy-to-use visual tools permit resource optimization, capability-based scheduling, change management and more.
While Epicor offers the same agile solutions on-premises, scheduling is more effective when accessed in the cloud. Why? Two primary reasons: compliance and disaster recovery. Should your company run into a crippling compliance issue at one or more locations—which largely occurs in the mid market—or a natural disaster strikes, a production manager can reconfigure machine tooling criteria in another location in only a matter of minutes. Current users and expert consultants have adopted Epicor in the cloud because it enables users to access and update schedules and other critical information wherever they do business.
2. Engineering
Epicor's engineering function is one of the most all-encompassing on the market today. If the build-out is precise, anyone with access to ordering and production data can retrieve a 360-degree view of a part from a single quote. For many, that's unheard of. Why?
Many ERP publishers see sales ordering and engineering as separate units. In Epicor 10, they are in a single instance. Today's most sought-after BPMs suggest this type of workflow, as it significantly reduces errors and improves lead time. For example, sales receives a request for quote (RFQ) from a supplier or distributor. From inside an integrated CRM interface, sales then creates a quote which notifies the engineering suite based on a BPM map. The software then creates a BOM instantly and provides a list of direct and overhead costs associated with each order. It also displays price breaks and discounts to sales.
The sales team can essentially be an engineer. Non-technical users can access part and material information and devise contracts within a matter of minutes. Lead time? Virtually nonexistent when the workflows are mapped to exploit these prolific parts of the suite. Before, sales would have to travel to engineering to place an order, viewing orders in an Excel sheet—or worse—on paper. Because sales is often paid on incentive, and engineering is not, lead time slows down. Epicor has provided an agile solution for that, and this is why their engineering functionality is one of their most sought-after functions among users.
3. Configuring
Ah, the almighty configurator. This component of Epicor ERP 10 offers robust drill-down capability to make your software fulfill your unique requirements. When the configurator is mapped to do so, it can manipulate an order at the quote, sales and job level. At the quote level, users can configure a part, materialize complete costs of the order and view potential lead time. At the sales level, users can make simple changes—color, amount, graphic, etc.—and reconfigure the order once again. The configurator enables both front and back-office users to observe lead time for that quote. At the job level, the configurator can be again purposeful as it allows the users to add on specific components or materials to an order.
The configurator is also essential for food, automotive or distribution industries that have hit a rough patch with a supplier. Often times when suppliers are cited for nonconformance, the next step in the supply chain is burdened with unavailable inventory. The configurator at the job level enables manufacturers or distributors to complete the quote with a like material instance at the same level of significance.
The configurator drives transparency between hierarchies and departments so everyone works to accommodate clients. As the market continues to ramp up, competitors will take advantage of this functionality to stay ahead of a volatile curve.
Wrap Up
As an Epicor Platinum Partner with over 20 years of experience, Datix knows ERP inside and out, and we understand just how important Epicor 10 is in revolutionizing manufacturing and distribution processes. But Datix can offer even more than an ERP implementation. With Unity, our integration solution, we can connect Epicor with your CRM or eCommerce software to form a streamlined system that increases efficiency and ROI.
If your business is relying on inefficient business practices, contact us today for more information on Epicor 10 and our enterprise software innovations!