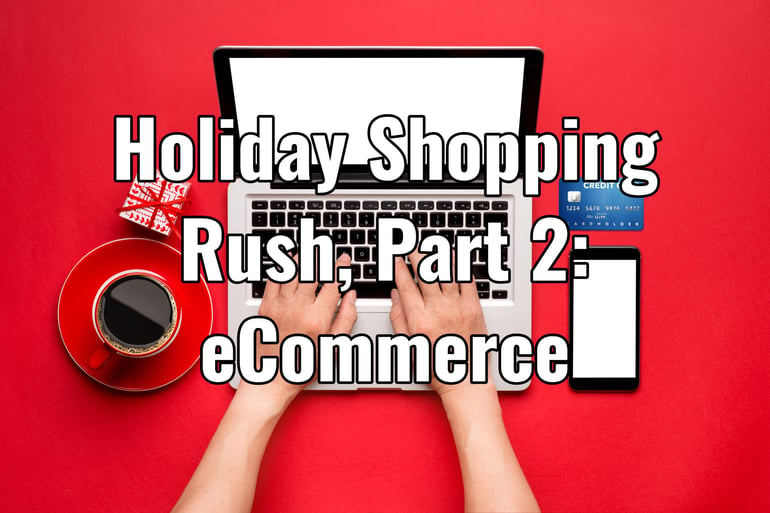 Use Magento to Prepare for the Holiday Rush
In part one, we covered the challenges of managing supply and demand during the holidays. This installment focuses on the struggle to maintain your online store during a period of heavy traffic. Online stores are crucial in our modern digital marketplace, especially over the holiday season. However, several websites lose out on profits during the holiday season because they can't handle the spike in activity. Crashes or slow load times aggravate customers, causing them to abandon their online shopping carts.
Just as Epicor ERP offers a solution to managing the supply chain, Magento eCommerce enables websites to withstand the holiday shopping rush and drive revenue. A robust eCommerce system offers optimal shopping experiences for customers. Furthermore, businesses can take advantage of their eCommerce system to attract new consumers. Check out the advantages of Magento as well as our tips for getting the most out of your eCommerce software this winter.
Speed
Consumers flock to the internet to make purchases fast, making speed a high priority for businesses looking to implement an eCommerce system. Magento Enterprise Edition 2.0 now offers up to 56 percent faster page load times and supports enterprise-level traffic to meet the needs of growing merchants. After implementing Magento, companies report faster load times across devices, which keeps customers on their pages for longer durations.
However, even Magento can't guarantee fast page loads if the website is poorly managed. Before the onslaught of holiday shoppers, check your site's speed by going to Google's Page Speed Analyzer. If your load time is not up to par, one cause could be your content. Images and videos are important tools to display products, but too many visuals or large multimedia files could be slowing down your site.
Mobility
Last year marked a new high in Black Friday sales, with mobile purchases alone totaling over $1.2 billion. With more and more consumers reaching for their phones to buy products and expecting the same performance as their desktops, it's important that online stores offer high mobile functionality. Businesses can create one responsive site that works on all devices by using Magento's built-in themes or customizing their own themes using Magento's open source code. Magento offers flexibility and various add-ons to allow businesses to create unique, engaging online stores for all devices without sacrificing load time.
Social Media
In the digital marketplace, social media has become both a marketing tool and a storefront. Considering the popularity of social media, refusing to engage with potential consumers via social platforms causes you to miss out on big opportunities to win customers. Magento Social allows businesses to leverage social media platforms for sales and marketing by syncing product catalogs with social networks. Additionally, Magento offers features to create compelling content for your online store and social media networks with product images and descriptions.
But you shouldn't be the only one interacting with social media. Encourage your customers to like, share and review products. Since people often trust brand recommendations from friends, customers become effective marketers through sharing products online. Magento includes social buttons for product pages to encourage consumers to show their appreciation for your products to the world.
Checkout Process
Black Friday used to primarily consist of long checkout lines that drained shoppers of their holiday spirit. Now, consumers can opt out of spending hours in busy stores and make purchases from their devices. However, some shoppers escape the lines at the mall only to find that they are still experiencing major delays when checking out online.
A robust eCommerce system is crucial to ensuring an easy checkout experience for online customers. Magento Enterprise Edition 2.0 has undergone major improvements in streamlining the checkout procedure, allowing websites to offer 66 percent faster add-to-cart server response times and up to 51 percent faster end-to-end checkout times. Just to be safe, you also want to run a few A/B tests on your cart-to-checkout process to ensure your site is prepared for a rush of activity.
Wrap Up
Now that we've articulated how Epicor ERP and Magento eCommerce yield tremendous profits during the holiday shopping rush in parts one and two, what's the next step? Integration. Running the systems separately doesn't allow you to use either system at its upmost capacity. Integrated software stores all your information in one system, creating a transparent workplace. Users no longer need to waste time or put your company at risk by transferring data between systems. Furthermore, automated features improve the shopping experience by providing real-time product updates to customers.
Datix is the place to go to achieve a successful enterprise software integration. With Unity, our integration platform, we can connect ERP and eCommerce software—as well as CRM software—into a streamlined machine that will double workers' productivity and allow you to reap even more from the holiday shopping rush.
Don't fall behind this holiday season. Contact us today to find out more about our enterprise software solutions!