Epicor Drives Future Business Success
You might not have a crystal ball, but to thrive in the global manufacturing industry, you'll have to foresee future marketplace trends and strategically leverage up-to-date technology to stay a step ahead of your competition. But how is it possible to future-proof your company in a rapidly evolving digital landscape?
The strongest foundation for future enterprise success is a robust enterprise resource planning (ERP) solution. In addition to automating back-end processes and delivering 360-degree insight, advanced ERP platforms stay ahead of industry trends to give users the functionality to plan for long-term growth. One of the most advanced platforms for manufacturers and distributors is Epicor ERP. For over 45 years, the ERP vendor has provided sophisticated solutions, and it continues to capitalize on the latest innovations to set their clients up for new opportunities. Check out the megatrends that are reshaping manufacturing in the infographic, and learn three areas where Epicor ERP can help you become a future-ready enterprise.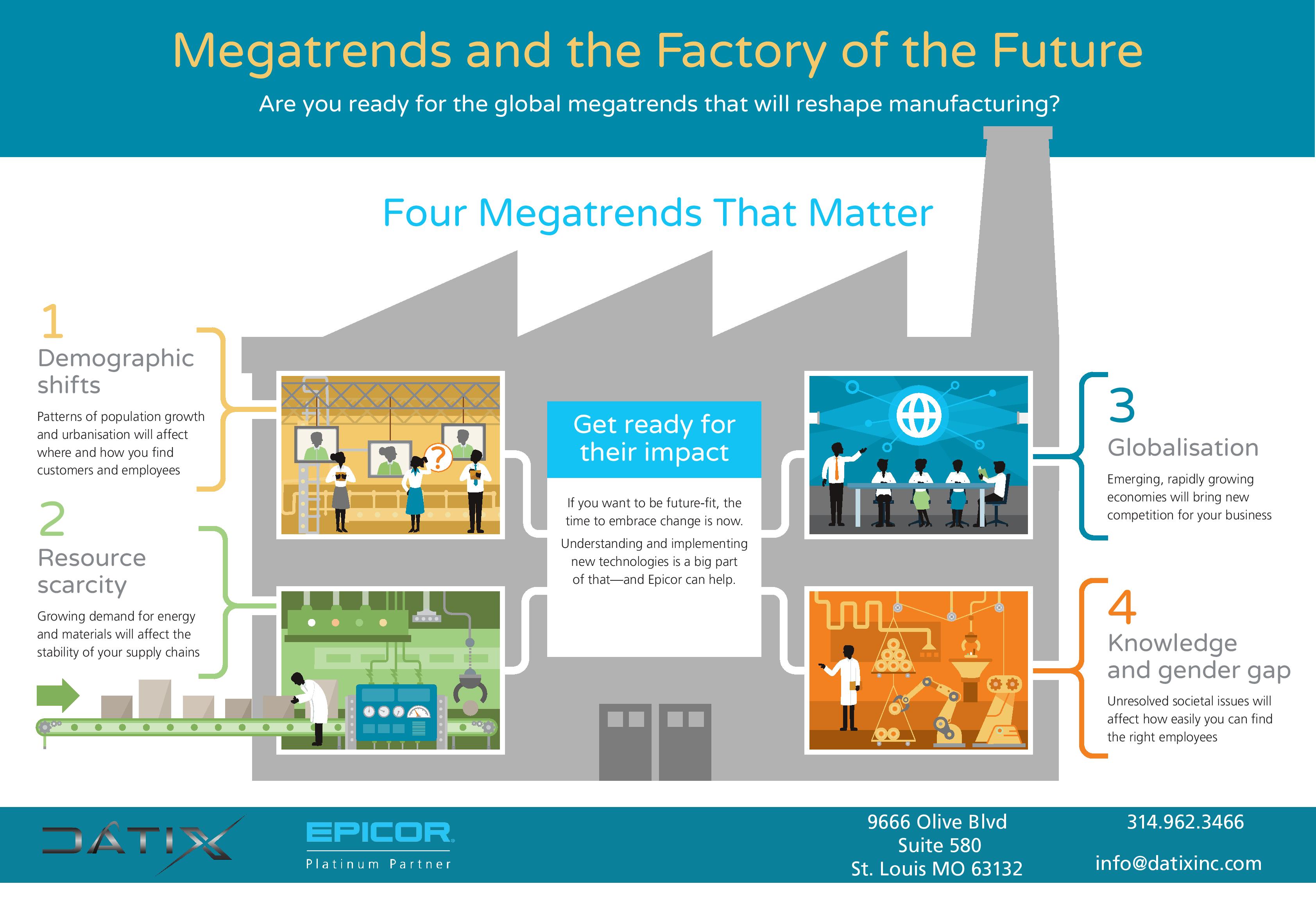 Click on the above image to view the full-size infographic.

IoT Technology
There's a reason that terms like IoT and Industry 4.0 have been floating around. The explosion of digital innovations has made artificial intelligence (AI), business intelligence (BI) and other insights available to businesses of all sizes. These new developments make up Industry 4.0, a modern industrial revolution that aligns technology with business practices to expand visibility and connect processes and equipment from the top floor to the shop floor.
A key aspect of Industry 4.0 is IoT, or the Internet of Things, which refers to the interconnections between machines and the Internet. When sensors are equipped throughout the manufacturing floor, employees gain a full view of their production operations—but only if that information is fielded through an advanced platform. With Epicor ERP, users can track real-time manufacturing performance right from their home pages. This data can then be leveraged to detect issues, schedule maintenance and optimize processes. Analytics tools can utilize data from throughout the enterprise to create precise forecasts and deliver insights to improve decision making. Operations can also be automated to boost efficiency and accuracy. With Epicor, IoT isn't just a buzzword—it's the key to future business growth.
Global Management
As the international marketplace develops, more and more manufacturers will set their sights outside national borders, sourcing raw materials from around the world and opening global locations. Businesses can't lose sight of their operations—no matter where they're occurring.
Epicor ERP includes an array of features designed to streamline your supply chain throughout your global sites. For example, global engines within the Epicor financial management module enable users to stay on top of international fiscal operations and regulations. Global multi-plant management tools empower users to sync tasks around the world and even retain a firm grasp on outsourced processes. Epicor will also ensure that you source materials at the right time and price point. Your ERP system can automate sourcing, so you can receive materials, services and more when you need it without wasting valuable work hours.
Customer Insight
One of the largest changes to hit manufacturing and distribution is the customer revolution. Customers now occupy the driver's seat in our markets. With endless options at their disposal, they have the power to take their business elsewhere the second service falls below their expectations. Furthermore, globalization and digitalization allow customers to interact with companies hundreds of miles away. This introduces a plethora of challenges to businesses: how can you personalize the experiences of distant clients? How can you maintain their high expectations? How can you provide a seamless, omnichannel buyer's journey?
As customer demands increase, your arsenal of software solutions should grow stronger. For example, you can leverage the artificial intelligence (AI) tools available from Salesforce Einstein or connect your CRM tools with LinkedIn using Microsoft Dynamics 365. But the best strategy for enhancing customer relationships is to integrate your ERP and CRM solutions. ERP-CRM integrations power the 360-degree insight required to elevate your business. Salespeople can leverage Epicor data to provide customers with accurate pricing and product availability, while your back offices can utilize CRM information for precise demand planning. Streamlining processes from end to end of your enterprise is the key to enhancing customer experiences well into the future.
Wrap Up
ERP isn't only designed to help you quickly achieve ROI. A flexible solution that is constantly improving its functionality, Epicor powers future enterprise performance. When manufacturers and distributors implement Epicor with long-term goals in mind, they form the groundwork for ongoing success.
To truly capitalize on ERP innovations, team up with the software experts at Datix. An Epicor Platinum Partner, we execute ERP implementations and integrations from start to finish. We never abandon clients after go-live. Throughout your software's lifetime, we'll take care of upgrades and maintenance to safeguard the future of your business. Plus, with our Unity integration solution, we can seamlessly connect Epicor ERP with CRM, eCommerce or Marketing Automation software to streamline processes from end to end of your enterprise.
Start your ERP journey today by contacting Datix's premier consultants!