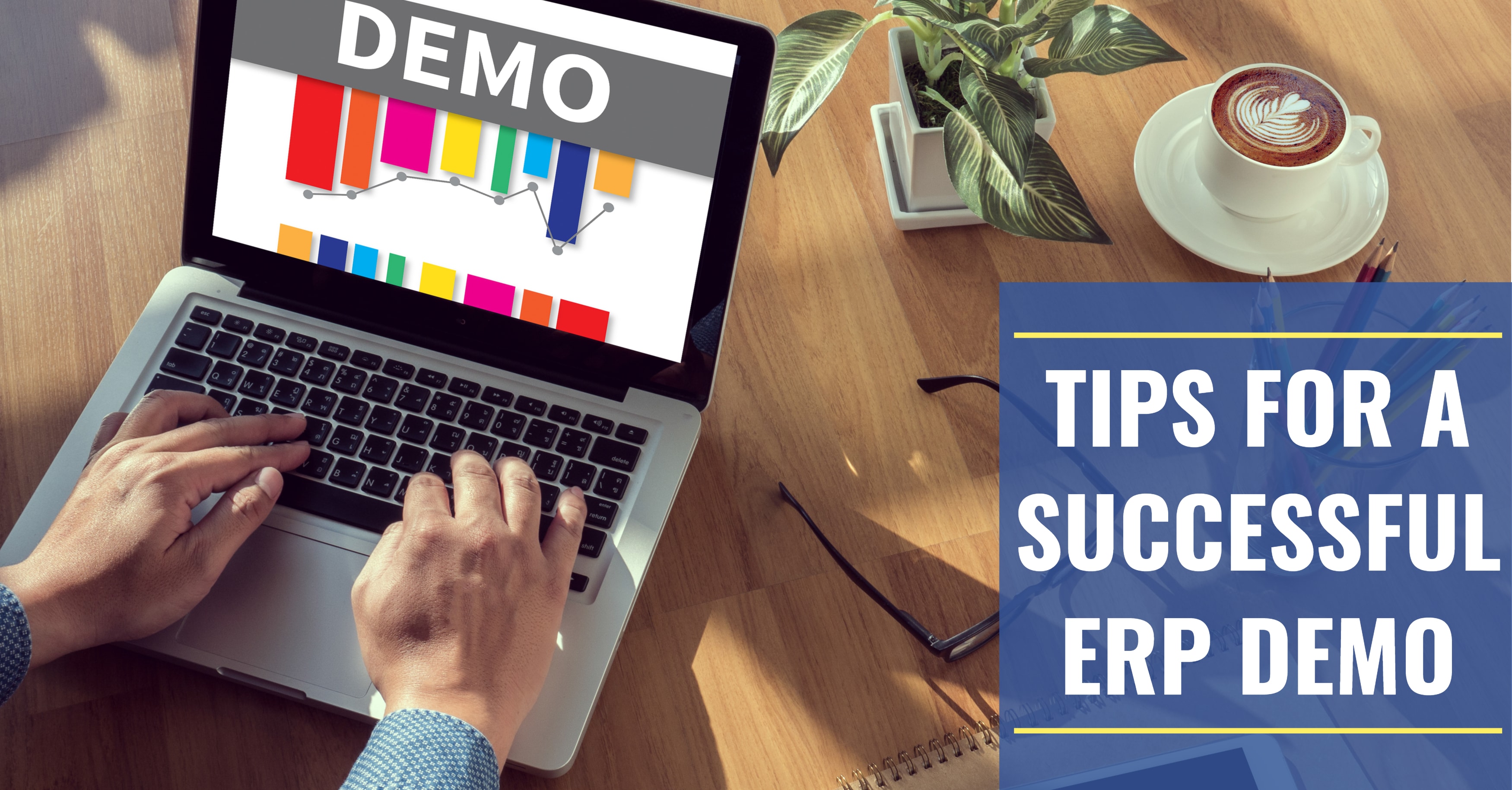 How to Prepare for ERP Demos
So, you've convinced the big executives and key decision makers that your business needs new or upgraded ERP software. You've constructed a project team full of all stars, set out your goals and documented your system. Basically, your business knows exactly what its processes should look like on the other side of implementation. But how do you know which ERP software vendor will get you to that point? That part lies in the judicious selection of your ERP vendor and platform—and the ERP software demo will be crucial to that decision.
After you've filled out the form to the right to get our free ERP selection guide and decided which vendors you want to meet with, you'll need to schedule a whole host of demo meetings. Here's how to make sure you're getting the most information and value out of every demo, so you'll rest easy knowing you invested in the best available ERP solution for your business.
Practice Vendor Restraint
It's easy to be won over by all the sales pitches of different software vendors and get excited about an endless number of systems. After all, it's the salesperson's job to differentiate their product and get potential clients excited about what they can offer. However, if your list of potential vendors you're getting a demo with is way too long, you'll actually be doing your business a disservice. Your project team won't be able to dedicate the necessary time and attention to every demo and will end up bogged down in sales speak, missing important details or forgetting to ask critical questions. Next thing you know, you end up signing on the dotted line for software that isn't really built for your business, just the one with the flashiest demo.
Get Vendors On Site
If it is feasible, try and get the potential ERP vendors on your shortlist on site. That way they will be able to meet with your decision makers and implementation project team and really grasp the bigger picture of what you need out of the ERP project. This is especially important if you are a manufacturer—vendors can get a look at your shop floor. Your implementation partner will be able to see your business processes in action, get a view of the current technology you are using and then be able to align their demo closer to your business.
Construct an Agenda for Every Demo
Your demo agenda should be clearly defined and communicated to each vendor before they ever step foot on site. If the software company doesn't know everything you'll need to do with ERP, they won't be able to build a satisfactory demo. Their platform may have the exact tools you need, but if you don't ask the vendor to showcase them, you'll never know. It's also important that you schedule time into your vendor visits outside of the cookie-cutter, scripted demo that every business gets. If you have specific questions that need to be answered that won't necessarily be addressed in the vendor spiel, make sure you have someone ready to ask them at the end. While the vendor may be responsible for the ERP software demo, your business should be in total control of the session—including what gets shown, asked and hashed out over your meeting.
Practice Consistency
This is especially important when you are shopping several different types of ERP platforms. Make sure you are taking the same agenda template into every meeting and ERP software demo that you have—if you don't communicate the same needs to every vendor, you can't expect consistency in your demos. You should be asking the same questions each time, differentiating the platforms for yourself and seeing where one suite may fit your business better than another. Enforcing consistency in your ERP software demos will allow your business to make the direct comparisons necessary to decide on the best ERP for the organization.
Set Up Any Necessary Conference Calls & Video Sharing
If there will be a key implementation team member absent from the office, make sure there will be a way for that person to call in, view and contribute to the ERP software demo. Just because they are out of sight does not mean they should be out of mind. All the decision makers should be present for every demo and vendor meeting. The whole session should be a calendar priority. The implementation process is already lengthy—you don't want to make it take even longer by having to repeat certain sections of a demo for someone who had to come in late, or fielding extra questions over email between your potential vendor and team members who couldn't make the meetings.
Assign Your Demo Expert
Aside from a well-assembled project team that contains members involved in every aspect of your business, you'll also need to put someone in charge of managing demos. This employee will be responsible for taking notes, recording conferences, keeping meetings on agenda and making sure everyone on the project is fully informed and involved. They should also consider the need for potential follow-up sessions with the ERP vendor and schedule them accordingly. By holding someone accountable for all the necessary components of your demo, you'll be fully prepared to get the most out of each session.
Allot Time for Final Questions
When scheduling your demos and follow-up meetings, make sure your expert sets aside some extra time at the end of every session for extra questions or discussions that need to take place. If you don't end up needing that time, everyone can just continue on about their work. After all, you'd rather have too much time to discuss this incredibly important decision than scramble to get everyone together for a consensus when someone has to run off to another meeting. Decisions made under pressure won't always be made with the most level of heads.
Wrap Up
If you need help with your own ERP implementation, or want an impartial consultant that can help you cut through all the vendor's sales talk, get in touch with an expert at Datix today! We're an Epicor Platinum Partner with over 20 years of experience in providing ERP, CRM and eCommerce solutions. Our consultants are committed to guiding manufacturing and distribution clients through every stage of their implementations. Once the implementation is done, we continue providing maintenance, upgrades and other services. We can also connect Epicor with an array of systems using Unity, our premier integration application.
Make sure you're leveraging the best possible ERP solution to manage your enterprise. Contact Datix today to get started on your ERP vendor selection and implementation!