Critical

Epicor ERP Benefits
Your business can't turn a blind eye when processes start to slip. Poorly managed data, limited visibility, production roadblocks—these issues are bound to frustrate your customers and tarnish your reputation. So where should you turn to solve your pain points?
Organizations experiencing any of these problems should start considering enterprise resource planning (ERP) software. Once the exclusive property of giant corporations, ERP is now accessible to businesses of all sizes to enhance profits and productivity. ERP consists of interconnected modules and cutting-edge features designed to generate insights and streamline workflows. The software has the power to manage a wide array of business processes and data, keeping your operations running smoothly.
For manufacturers and value-added distributors, one of the best ERP solutions available is Epicor ERP. A leading software vendor, Epicor incorporates business needs and innovative functionality into each platform. Below, we go over some of the solution's biggest benefits. If any of the following benefits sound like a critical asset for driving your business performance, Epicor ERP could be just what your company needs.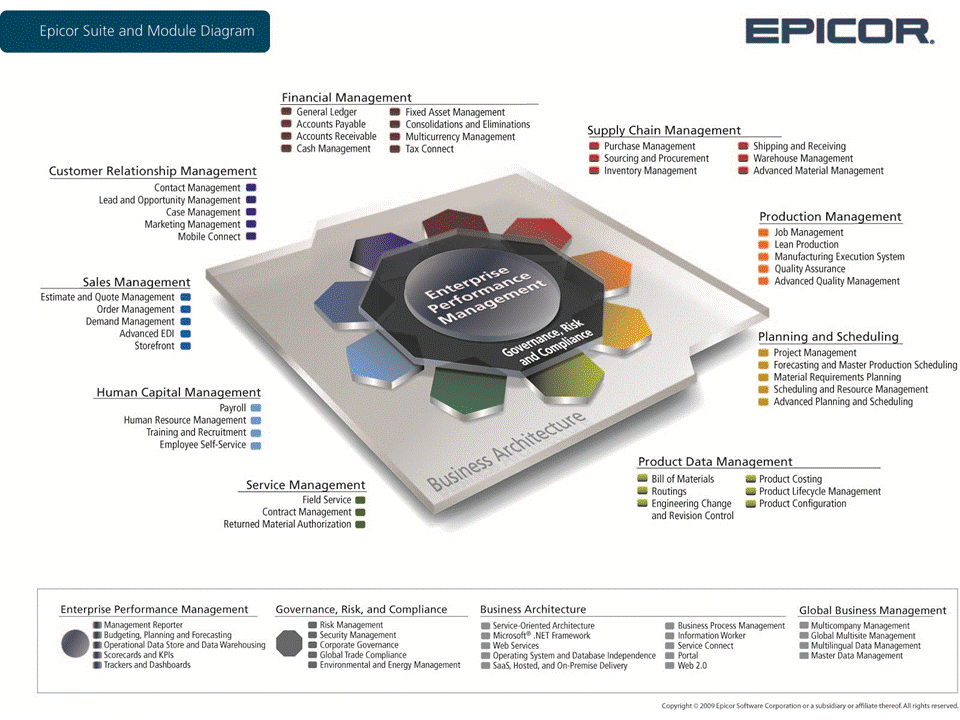 Click on the above image to view the full-size diagram of Epicor ERP suites and modules.
Central Data Hub
It's all too common for businesses to implement multiple point solutions to handle different processes. This creates a headache for users as they manually enter data into separate platforms and lack insight into enterprise operations. Your employees should be working as a unified front to tackle issues and make key business improvements, but this isn't feasible when data is scattered throughout siloed applications.
Epicor ERP works as a central data hub, so you can ditch your other platforms. With a variety of out-of-the-box modules, authorized users can access metrics throughout your organization, from inventory levels to production efficiency. When your current modules aren't enough, you can easily add new modules or integrate your ERP with CRM or Marketing Automation software. Epicor makes it simple to effectively manage data from the top floor to the shop floor.
Process Automation
Nobody likes performing repetitive, menial tasks. Organizations often take days, even weeks to execute manual operations. Worst of all, if an employee makes one wrong move during these processes, you could be looking at major delays, unhappy customers or safety hazards.
Epicor has the power to automate processes throughout your supply chain. With Epicor, tasks that once required days of multiple manual steps are transformed into fast, simple operations executed within hours, if not sooner. Material inspections, payment and order processing, distribution scheduling—all this and more can be automated with Epicor ERP, resulting in greater enterprise efficiency and accuracy.
Industry

Best Practices
Businesses should always start off their ERP search by seeking out solutions designed for their industry. For manufacturing and value-added distribution, look no further than Epicor ERP. After over 45 years of developing ERP solutions, Epicor has a deep understanding of software requirements for manufacturers and value-added distributors.
Epicor takes a vertical approach to designing its solutions, equipping multiple industries with the unique tools they need to optimize processes. Automotive manufacturers have global engines to manage international processes, medical device manufacturers have support for stringent regulations and electrical distributors have cut wire and reel tracking. Epicor covers industry best practices to support each company's unique needs.
Flexibility
Epicor has developed a reputation within the ERP market for its flexibility. IT teams often find themselves deep in code, struggling to make small software changes to support their critical processes. Epicor's agile software easily accommodates modifications, empowering you to align your software to your needs. Its built-in customization engine allows businesses to adjust settings through clicks rather than code, so you can change your software without touching the base code.
Users also enjoy flexibility through their personalized dashboards. The Epicor active home page allows users to select the reports, graphs and metrics they want to track. Drag-and-drop functionality and sophisticated drill-down capabilities create an intuitive user experience, giving employees insights at their fingertips.
Wrap Up
A modern manufacturer or distributor can't keep up with global competition without ERP software. Epicor goes above and beyond other vendors, providing comprehensive functionality, process automation and flexibility to support industry best practices.
At Datix, our consultants will help you get the most from your software. A certified Epicor partner, Datix has delivered ERP solutions to a wide range of manufacturers and distributors for over 20 years. From selecting the right platform to aligning your software with your processes, our consultants will do whatever it takes to transform your business with software.
Think Epicor ERP might be the right solution for your enterprise? Get in touch with Datix today to start your implementation!