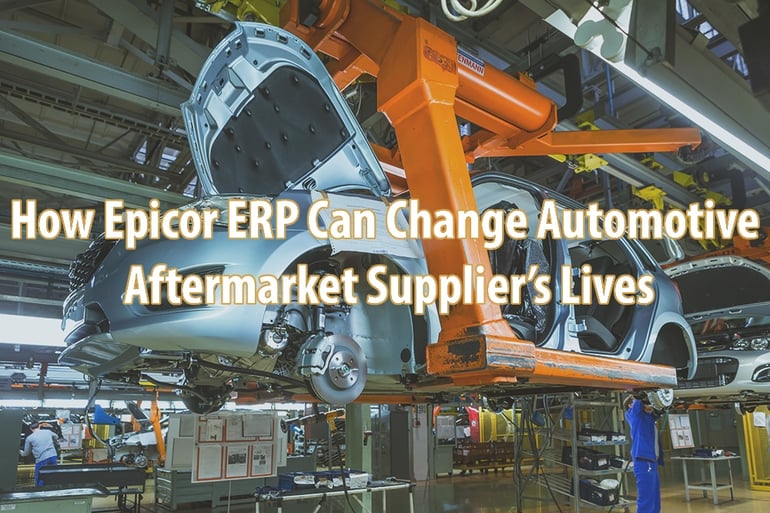 In any crowded market that values high specialization to stay competitive—like the aftermarket automotive industry—businesses can require very specific software solutions just to keep up.
However, there can be some significant danger in the software race to the top. The desire for specificity can also lead to overly complex and jumbled systems. As companies hone their own unique set of processes, they can think they need an excessively customized set of software platforms to support them. In the end, over-customization can empty out your company's pockets and create a slow, over-complex system that is difficult to navigate.
Although there is something to be said for selecting best-of-breed systems, it's truly better for automotive manufacturers to go for a singular, powerful and flexible ERP system that can fuel their entire shop floor. It's also vital that they select an ERP with the features necessary to support the unique needs of the automotive industry. That's where Epicor ERP comes in. Epicor's sophisticated analytics functionality and business management software could be life-changing for automotive aftermarket suppliers and distributors. Here's how some of Epicor ERP's innovative features can change the way your company runs–for the better.
Back-to-Front Efficiency Tools
Just last year, Epicor introduced a host of new industry data analytics (IDA) tools built to make business easier for the supply and distribution industries, automotive included. The tools allow Epicor customers to combine point of sale data with general industry intelligence to optimize warehouse operations. You can use ERP to ensure that your automotive inventory is going to the right places, at the right times and without error. Centralized, streamlined modules mean all the most important tasks your business undertakes can happen in the same place. All physical inventory processes are consolidated into the Physical Inventory Posting (PIP), with much more flexibility in selecting, changing and customizing parts to be part of the physical inventory process. No more switching between applications, and dragging your sensitive data back and forth between them!
Advanced Category Management Tools
Epicor ERP is consistently at the forefront in the world of advanced category management tools. Those include custom data warehouse projects, increased channel visibility and demand forecasting, all consolidated into the same powerful ERP tool. Your warehouse managers can employ demand forecasting functionality to schedule production on a day-to-day scale and over a much longer time period, positioning your business to cut down on lead times. Epicor can gather automotive aftermarket data and use that industry intelligence to predict the common ebb and flow of demand in your particular channels. You'll be able to wave goodbye to excess product laying around your warehouse, to struggling to work faster in order to meet demand, and making your customers wait even longer.
Integrating that Epicor ERP into the rest of your software suite can allow your business to reap even better benefits. If you use an integration tool like Unity by Datix to integrate Epicor with an eCommerce software like Magento, the data from your online transactions and customers can also be incorporated into those forecasts, making them even stronger.
Strengthen Your Supply Chain
Because aftermarket suppliers often have to manage a complex web of distributors, machinery and clients, they need a sophisticated enterprise software suite that can keep up. If an automotive aftermarket supplier has a channel partner also using Epicor, they can use the software to work on the same project and work on specific product promotions, or optimizing distribution through a certain channel. That same system can then allow you to empirically analyze the outcome of that work, something most existing industry data warehouse solutions cannot offer you.
What's more—a Vendor Report Card tool could be particularly life-saving for your automotive aftermarket business. Simply by inputting data on each of your vendors into Epicor, the ERP can calculate a scheduled performance analysis, so you know which relationships might need work, and which ones are helping to push your business forward. By strengthening each link in your supply chain, you can then serve both your suppliers, distributors and customers better!
Wrap Up
The aftermarket automotive supply and distribution industry is crowded and competitive. Don't let your business get left behind as your peers modernize and take on sophisticated ERP solutions to support their processes. Epicor can give you a centralized source of data, tools and information analysis to allow your company to carry out critical operations on the same platform. To learn more about Epicor ERP for the automotive aftermarket industry, get in touch with the experts at Datix today! We recently partnered with AIM Computer Solutions to join the Epicor Automotive Alliance, a group committed to providing first-class solutions for the automotive industry. Drop us a line and learn how we can do the same for your business.