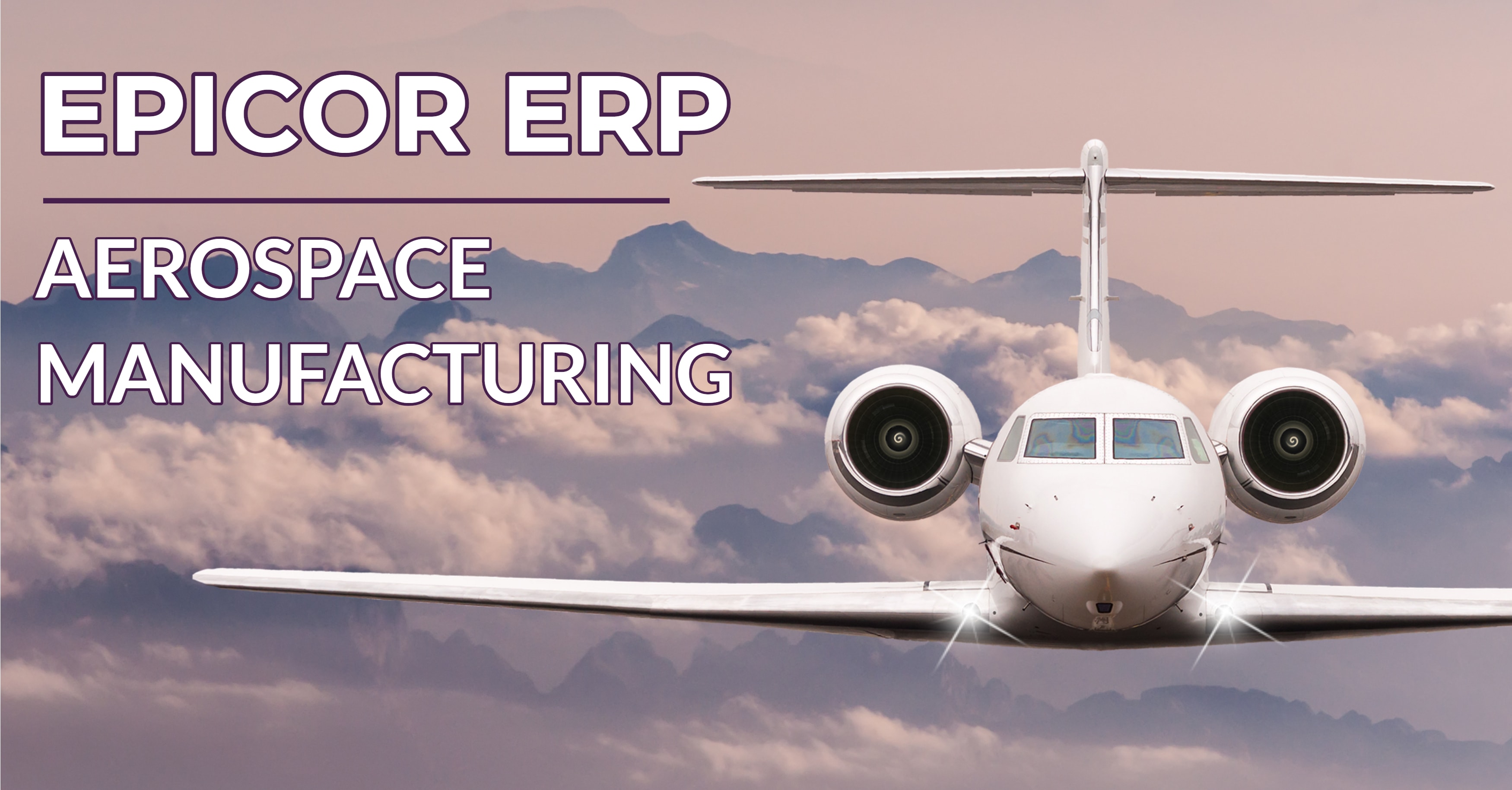 Epicor ERP for Aerospace and Defense
Think all manufacturing is the same? Think again. Manufacturing processes vary based on industry and size. That means ERP and other enterprise software systems require functionality and adaptability to support different sectors. The Aerospace and Defense (A&D) sector proves especially complex, facing stringent regulations, rapid changes and intense engineering processes. But aerospace manufacturing can face these challenges head on with a robust ERP system such as Epicor. Let's dive into the Epicor ERP features that A&D need to profit in a competitive industry.
Compliance
Compliance with government and industry regulations is no small feat. International Financial Reporting Standards (IFRS), environmental regulations, security measures, trade requirements, commercial and defense industry standards—as aerospace businesses expand, so does the list of regulations. If you're going without a powerful ERP system, the compilation of regulations poses a threat to your bottom line.
With Epicor, you can stay on top of the strictest requirements. Epicor automates the compliance process to make one of the biggest stressors for A&D manufacturers a thing of the past. ERP automatically detects components that fall short of performance standards and provides details about necessary directives on the fly.
Compliance to regulations and contracts also requires extensive reporting, which Epicor supports with superior workflow management and auditing features. Workflow management keeps track of each step of the manufacturing process, ensuring all documents go to the right places and each step satisfies government and industry standards. Every change made to data and records is captured in Epicor's complete audit trail, further guaranteeing compliance. Failure to adhere to regulations can break an aerospace manufacturing company, but that's no longer a concern with Epicor's robust features.
Product Lifecycle Management
Product lifecycle management (PLM) serves a crucial role in any manufacturing sector, but it has an especially important, complicated role in the aerospace industry. Because of intense regulations and safety measures, few industries have a smaller room for error than aerospace manufacturing. PLM systems must come equipped to address a tremendous range of processes and long product lifecycles. For PLM systems to meet these challenges, they need to serve as an end-to-end solution that improves quality, design, engineering and traceability.
With Epicor ERP, aerospace manufacturers gain exactly what they need. PLM further supports compliance by providing rigorous product traceability and enabling enterprises to maintain vast quantities of electronic documentation. Epicor embeds its PLM suite with a product data management (PDM) system that supervises the lifecycle for quality assurance.
PLM also includes interfaces to several computer-aided design (CAD) systems that are integral for aerospace design. Comprehensive engineering management capabilities empower manufacturers to manage workflows and produce detailed cost analyses during engineering processes. An all-inclusive PLM system is nonnegotiable for the aerospace industry, making the scope of Epicor's features ideal for A&D.
Wrap Up
A&D manufacturers experience a distinct set of difficulties which require the help of a robust ERP system. Datix, a certified Epicor partner, has your back. We have 20 years of experience in building premier software solutions and can serve as your ERP experts throughout your software journey.
Yet another unique challenge in the aerospace industry is greater susceptibility to information silos. A&D manufacturers could be operating on hundreds of disjointed platforms, fostering disorganization and redundancy. Integrated software serves as the key to breaking down these silos and boosting productivity. Unity, Datix's flagship integration solution, connects a variety of software into one system that streamlines business processes and increases transparency.
To reach your aerospace manufacturing goals, contact Datix to learn about our software solutions and services!