5 Trends in Discrete Manufacturing Technology
Discrete manufacturing technology is evolving at a rapid pace. Increasing availability of ERP solutions and advancements in enterprise systems empower businesses to maximize the value of their data and optimize processes. Change can often be scary, but modernizing your manufacturing strategies and solutions can open the doors to exciting opportunities. Organizations willing to step forward into this new frontier will gain a competitive edge and win business from modern consumers.
Just what are the digital trends transforming discrete manufacturing, and how can you leverage them in your own company? Check out our infographic and keep reading to learn more about advancements in discrete manufacturing technology.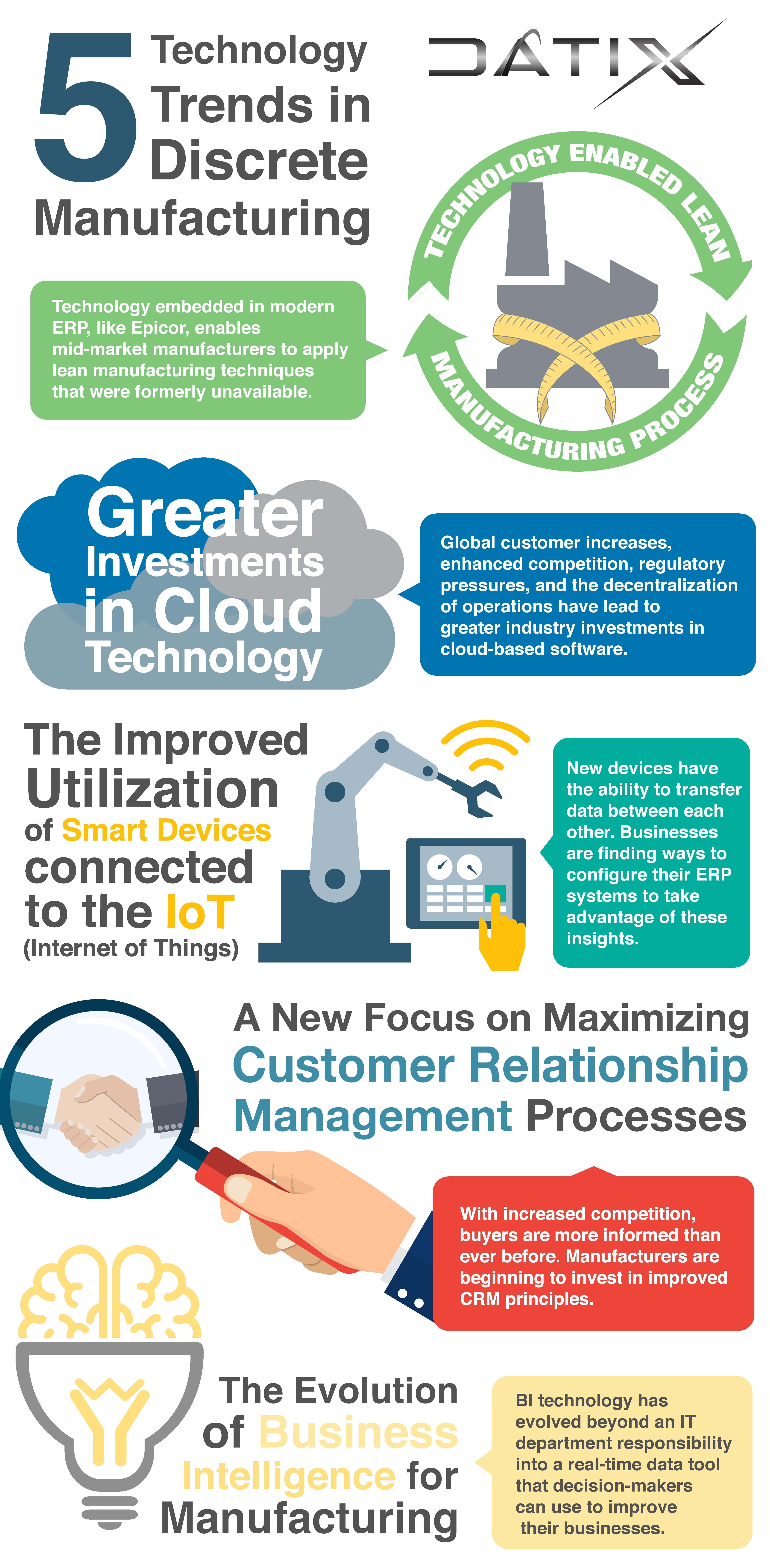 Lean Manufacturing Techniques
Lean manufacturing is not a new concept. However, innovations in ERP technology, like those in Epicor version 10, are allowing mid-market businesses to apply these principles like never before. The ability to eliminate waste and lean out processes has never been easier than with the modern ERP system. Kanban functionality enables a variety of Kanban workflows, such as real-time replenishment of stock and materials. Lean metrics help users stay on track of their production activity and waste reduction.
Furthermore, Epicor provides the flexibility to enable manufacturers to adopt lean principles in accordance with their specific needs. For example, mixed-mode manufacturers can synchronize MRP and Kanban execution or define their own rules for Kanban flows. The sophistication of modern lean production modules provides manufacturers with a greater level of control over their processes.
Cloud Technology
We've hit on the importance of cloud computing a lot on our blog, but its influence really can't be overstated. IDC predicts that 67 percent of enterprise IT infrastructure and software will be for cloud-based offerings by 2020, and discrete manufacturers are predicted to invest more in public cloud services than any other industry.
The reasons for the cloud's domination include affordability and ease of use. Unlike on-premises software, cloud systems don't require expensive, in-house hardware and servers, reducing the cost and labor of implementation and upkeep. Furthermore, cloud computing fuels mobile access and real-time insight across global locations.
The Internet of Things
The Internet of Things (IoT) is giving organizations the powerful ability to transfer data between devices. This is enhancing how businesses can make decisions about their processes and products. This data can be organized into the company's ERP system and used to draw new reports and improve cumbersome processes. More and more discrete manufacturers are learning to lean on these new smart devices to track product quality and take a proactive approach to operations such as field service and equipment maintenance.
Customer Relationship Management
While discrete manufacturers have long used CRM tools, processes that fully support an integrated sales and customer service approach have been lacking for some time. The rise of the informed consumer has caused a shift in this behavior. Businesses are beginning to adopt new strategies to prioritize customer experiences. With customers communicating and retrieving information faster than ever before, manufacturers must learn to stay ahead of consumer demands.
One way that modern technology has enabled discrete manufacturers to improve CRM usage is software integration. Software integration has come a long way from the cumbersome coding of early years. Now, solutions such as Datix's Unity application are pre-built to be quickly installed and provide seamless, two-way data synchronizations between platforms. For discrete manufacturers, that means CRM and ERP systems can be connected to provide a complete view of customers and improve the buyer's journey.
Business Intelligence
Executives now have access to powerful business intelligence (BI) tools that have effectively improved the way information can be retrieved and pulled from business processes. This data can empower organizations to make smart decisions that effectively change their company forever. As manufacturers become more aware of the availability of these kinds of tools, they'll invest in solutions that put a wealth of insights at their fingertips.
With BI tools, manufacturers don't have to delegate hours to maintaining reports or trying to make sense of spreadsheets and mass amounts of data. BI technology provides up-to-date overviews and detailed insights to paint a complete picture of your enterprise performance. Epicor, for example, created Epicor Data Analytics to serve as a comprehensive BI tool to drive new levels of business understanding. EDA's interactive, user-friendly dashboards ensure that you never lose access to critical information, such as inventory values or late customer payments.
Wrap Up
Too many discrete manufacturers continue to rely on outdated processes and technology, putting them at risk of losing business. That's why it's crucial to keep up with enterprise software trends.
At Datix, we specialize in continuous growth and improvement, elevating our solutions and services to solve real issues and modernize our clients' strategies. A certified partner of Epicor, Salesforce and Microsoft Dynamics 365 CRM, we're leaders in cutting-edge ERP and CRM software. Our diverse, scalable solutions make us a one-stop shop for enterprise technology. Additionally, our consultants work with you throughout your software journey, ensuring you're always operating on premier, up-to-date systems.
Start transforming your discrete manufacturing business with software. Reach out to Datix today!