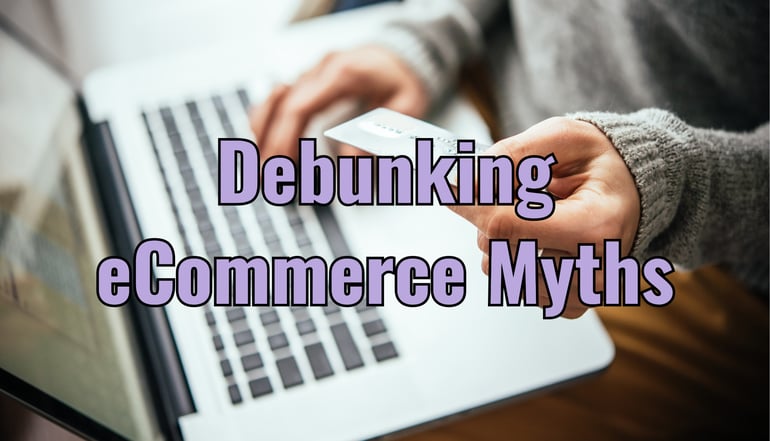 What's the Truth About Magento eCommerce?
Myths surrounding eCommerce software cover a wide spectrum, from total dismissal to overconfidence in online store performance. The reality is somewhere in the middle of these extremes. In the vast, digital marketplace, eCommerce is a must. Manufacturers and distributors who refuse to develop an online store lose out on gaining countless clients and equipping their business for future growth. However, even with a top eCommerce vendor such as Magento, businesses can't reasonably expect immense traffic the instant their online store launches. Smart strategies and SEO practices are required to build a successful site that drives sales.
We're here to dispel some of the most prevalent eCommerce myths and explain the Magento eCommerce features that aid businesses in creating stellar web stores that bring in considerable revenue.
"We don't need eCommerce."
One of the most pervasive eCommerce myths is that the platform only benefits B2C businesses, consumer goods and larger companies. However, eCommerce proves a powerful tool for small and mid-size manufacturers and distributors as well. More and more industrial buyers are purchasing products online and expecting to receive their shipment in a matter of days. As an increasing number of manufacturers and distributors are building online stores to satisfy buyers, businesses that continue wasting money and time on outdated print catalogs will find themselves losing out on profits.
Magento's open source code makes it amenable to the unique needs of manufacturers and distributors, allowing you to create compelling online stores without hassle. Even smaller businesses can break into the global marketplace by using their eCommerce store to sell products anywhere, anytime. Magento Shipping will connect you with global shipping carriers and reduce shipping-related costs, so you and your buyers can save money. With Magento eCommerce, manufacturers and distributors can gain a competitive edge.
"One bad online review will ruin us."
Consumers have more power than ever before. The internet spoils buyers with an endless array of options—both for shopping and for speaking out. You can't lose out on the enormous profits from online shopping, but some businesses fear that one negative review posted for all the world to see will jeopardize their efforts to expand digitally.
The truth is that every business faces occasional criticism, including disparaging online reviews. These reviews aren't the downfall of your business but an opportunity to improve products and services and actually increase your reputability by responding productively to criticism. If you're offering quality products and leveraging Magento to build a reliable online shopping experience, you should receive more positive than negative reviews.
Furthermore, Magento Social expands your consumer engagement beyond your web store to encourage more positive customer feedback. Precision targeting tools enable you to identify your audience, allocate spending towards your top performing products and drive better results. Social sharing buttons within your site encourage customers to share their love of your products throughout social media platforms. Using Magento, consumers will transform into an effective marketing team.
"My online store will have immediate traffic."
Just because you build it doesn't mean they will come. It will take some time to get the word out about your new site and determine the best strategies for driving traffic, but SEO practices and Magento tools go a long way in attracting visitors.
When it comes to generating traffic, content is king. Relevant content that utilizes the right keywords in the right places will guide the right people to your online store. Magento's drag and drop functionality makes it easy to create effective content. Plus, predictive marketing technology and the ability to drill down into top performing categories and customer segments enable Magento users to generate content that grabs the attention of specific consumers.
"A flashy website will drive traffic."
More is not always more. This proves especially true when it comes to building websites. Adding bright graphics, videos and other rich media content can make your online store more dynamic—but not if you go overboard. Magento offers fast loading times on both desktops and mobile devices as well as opportunities to integrate third party and rich media content into blogs, product pages and online stores. However, speed and usability dwindles when you include all the bells and whistles. Nothing deters sales more than a slow website. Check your online store's speed, and simplify pages when your site takes more than a few seconds to load.
Wrap Up
Far too many businesses are misusing or refusing to implement eCommerce software because of these common misconceptions. When used strategically, Magento expands your customer base and optimizes your service to keep your manufacturing or distribution business ahead of the competition.
To get the most out of your Magento system, look no further than Unity, Datix's flagship integration solution. By connecting Magento with ERP, CRM or another software, our clients can offer customers real-time information about their order. An integration improves efficiency and the quality of customer data, giving your business an extra boost.
Still have questions about eCommerce? Contact our expert Datix consultants today!