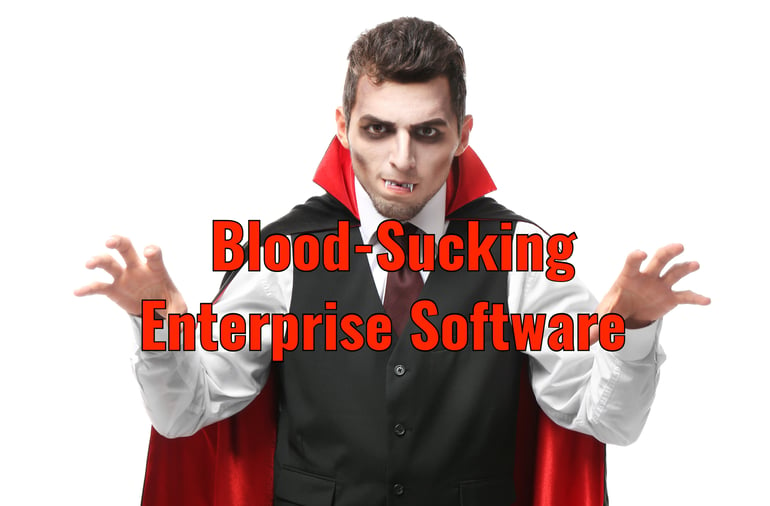 Prevent Software From Draining Your Resources
It's October, the time of year to enjoy horror films, candy and all sorts of ghoulish Halloween festivities. But many companies are too scared of their demonic software to enjoy the month's frights. An enterprise software system or implementation project that is far behind schedule, failing to meet your company's needs and draining your money and time—the lifeblood of any business—is one of the deadliest monsters in enterprise technology. At Datix, we've heard many a horror story about these demons. Luckily, Datix is actually a collection of vampire hunters with the wooden stakes and crucifixes to ward off the vampires before they kill a company's business. Well, that's not quite true, but Datix does have consulting experts and advanced ERP, CRM and eCommerce solutions. Check out these examples of companies saved by Datix's superior solutions.
Chilling ERP Errors
A cooler, drinkware and gear company was getting chills from more than just their products when they experienced unacceptable error rates from their ERP software. The system was sucking up the company's time and money with only poor functionality and an information divide in return. Datix had to bring out their biggest weapon to fight this monster: Unity. An integration platform, Unity merges ERP with eCommerce or CRM software to create a streamlined system that can fight any demon. The company received an integration between Epicor ERP 10 and Salesforce which handled over 50,000 records per day across their operations, giving them confidence and consistency. Their new, flexible CRM-ERP connection gave the client control over which data sets and fields would be synced between Epicor and Salesforce, allowing it to precisely map business processes.
To ward off deadly software for good, the company teamed up with Datix again to create new processes to increase the productivity of their operations and customer support departments. Now, over 200 Salesforce and ERP users at the business can access real-time information on critical data fields and process transactions more accurately and quickly from quote to production. This kind of knowledge will be invaluable to sales transactions and demand planning as the company moves forward.
Pain-in-the-Neck Software
Another victim of a blood-sucking ERP implementation was a creative licensing company that provides in-store entertainment for the retail, restaurant and hospital industries. Its ERP system was a pain in the neck for 1.5 years, sucking their resources, hurting their profits and making it impossible to support international shipping and manufacturing operations. The company needed an especially sophisticated, scalable system, so they went to Datix. Datix built 20 form customizations, 80 BPMS and thousands of lines of code. Furthermore, a custom Recurring Billing process gave the company flexibility to manage and automate the creation of over 15,000 invoices with more than 200,000 total invoice lines per month. And Datix provided that in only 8 months.
The client was pleased with Datix's service, but as their business grew, their software started to torture them again. Datix returned to save the day, upgrading the software to Epicor ERP 10 and using Unity to connect Epicor with Salesforce. Because of Datix, the company enjoys transparency and never needs to fear software draining their resources.
You Have 90 Days. . . .
A defense contractor was unable to defend itself against terrifying cloud CRM software that lacked a Department of Defense certification. The company would experience great peril if it didn't implement DoD certified CRM software in 90 days. Additionally, their newly upgraded Epicor ERP 10 system needed to be properly synced with their CRM to fix their lack of transparency between departments. In one of its most impressive feats, Datix not only provided Microsoft Dynamics 365 CRM software with DoD certification by the strict deadline but also integrated CRM with Epicor ERP 10 in the second phase of the project.
Though pressed for time, Datix still performed small pilots of the system prior to go-live, assuring usability and allowing the company to experience their new CRM system before full deployment. After Datix launched a fully functional, DoD certified Microsoft Dynamics 365 CRM system, the client could easily track parts, engagements and forecasts all in one place. Once their new-and-improved CRM system was integrated with Epicor, the client achieved a unified system that streamlined their quote to cash process with significantly less costs. Datix met the company's monster head-on, providing the solutions it needed on time and within budget.
Wrap Up
No matter your enterprise software horror story, Datix will bring new blood to your company through our innovative solutions. With 20 years of slaying demonic enterprise software under our belts, we have the expertise to revitalize businesses that have been victims of the worst software monsters. Furthermore, our CIP (continuous improvement plan) ensures that your software stays up-to-date even after implementation so that it always works at full capacity as your business develops.
Tired of your enterprise software draining your resources? Call Datix today to learn how our ERP, CRM and eCommerce solutions can kill off blood-sucking systems for good!