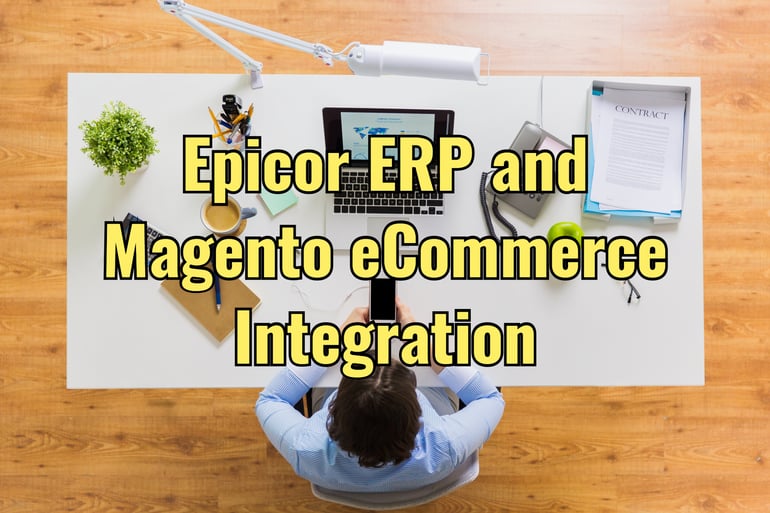 Maximize Efficiency: Integrate Magento and Epicor!
An Epicor ERP and Magento eCommerce integration should be a given for any manufacturer looking to use both platforms. For small businesses with only a few people, it might seem reasonable to have an employee responsible for collecting sales orders from an online store and then entering them into Epicor ERP. As businesses grow larger, that notion becomes ridiculous. By not integrating your Magento and Epicor software, you introduce natural human error in your sales cycle. What if a sales person enters the wrong numbers, or products, from an order into Epicor ERP? How will your online site know when to advertise that a certain product is low or out of stock if Magento doesn't have access to inventory data? Quite simply: eCommerce and ERP integration is a must for mitigating risk and handling errors. Here's some key tips to make sure any Magento eCommerce and Epicor ERP integration project your business undertakes runs smoothly.
Remember the Importance of Integration
If you are planning on implementing either Magento or Epicor, make sure your existing enterprise software systems (i.e. your CRM, HR platforms, etc.) are amenable to an integration. Magento and Epicor ERP both have extremely flexible APIs that are not restrictive to customization, development or integration. However, you don't want to have to exert excess effort trying to delve in the base code of your other systems just to check that you can interconnect every platform. Even worse, you don't want to find that the source code is completely restrictive when it comes to sharing crucial data fields. If you're planning on integration of any kind in the future, double check that the vendors you choose will allow you to do so, and that you have an integration platform flexible enough to accommodate any future enterprise systems.
Get the Right Resources
For a hassle-free Epicor ERP and Magento integration, you'll need a project team with employees who are experts in both pieces of software. Software integration is not just a simple line of code that can be inserted into your software. It should be a full solution that is embedded into your business processes and facilitating them every day.
That means your integration team should already know the language of the software's coding and API calls back to front. Software integration is not the time to simply "train up" your current technical team and hope for the best. The integration solution will be crucial to the success of your manufacturing business—you wouldn't want to entrust it to someone who just went through a few days of API coding classes. Don't just assume that technical knowledge on one platform will translate into someone being your integration expert on both, especially if they have not worked on the other software previously.
Look for Solutions, Not Band-Aids
Often, software vendors advertise their in-house plug-and-play "integration platforms" for their system. However, we have experienced countless clients who go for these solutions only to find they are too generic, unsophisticated or merely a data sync. Because ERP and Magento integration is so vital for your business and will be involved in so many operations, you'll have to look for a real, agile and customizable solution. Will the integration sync your fields in real time? Will it be flexible enough to change and adapt with your business as it grows, or is it a hastily put together bridge that will collapse when extra weight is applied? Make sure that the integration platform is just as dynamic and dependable as the two pieces of software it will be connecting.
Integrate Magento and Epicor ERP with Datix
Often, bringing in outside expertise is the best option for small-to-midsize businesses that may not have all the resources required to carry out a successful Magento and Epicor ERP integration. The knowledge required to build a flexible, functioning solution—not just a data exchange—isn't common. That's where a team of software integration experts like those at Datix comes in. We've pre-built Unity, a proven integration platform for a wide range of enterprise software, including Magento and Epicor ERP, for this very purpose.
Datix can model your business' unique processes and then translate those into the right API calls, definitions and protocols that need to go into that integration platform. Our comprehensive approach allows for optimal error handling and streamlines operations throughout your enterprise. We have a team that can ask the right questions: Which fields do you need to sync? Will those syncs be bidirectional or one way, and how often will that communication happen? For example, companies dealing with a large volume of sales orders and processing mountains of delivery requests will need to set up very specific locations and times for pushing sales orders to the shop floor—real-time updating will simply overload the back office. However, if you're a smaller company that relies on fast response and delivery times, you'll want the sync times to be shorter. Unity can do all of this, without any coding required on your business' end. The capacity to support a wide range of business functions already exists in the platform!
Wrap Up
Any business running both Epicor ERP and Magento eCommerce software should be considering software integration. The benefits are too numerous and too immediate to ignore. Real-time processing of sales orders, accurate production and delivery information for your customers, and the ability for your Epicor ERP to access vital customer information like ship-to locations, credit information and pricing tiers are just a few of the many advantages manufacturers and distributors can enjoy. Imagine trying to run your business efficiently by manually transferring all the information between systems!
However, just because Epicor and Magento integration is necessary doesn't mean it should be rushed. Take your time planning the project, finding the right team and mapping out the business processes you'll need the two pieces of software to sync. If you're looking for a solution for ERP and eCommerce integration, look no further than Unity. Datix, an Epicor Platinum Partner and Magento expert, can help you seamlessly connect the two pieces of software with no custom coding or extensive development knowledge required from your team. Get in touch with one of our consultants and let us help you get the Epicor ERP and Magento eCommerce integration process started with Unity!